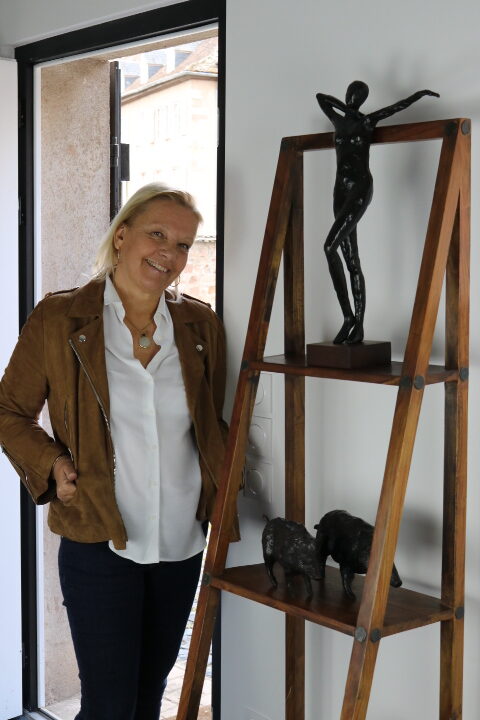 Caroline d'Andlau-Hombourg sculptor in movement.
Born into an Alsatian family, Caroline was made aware of the art world from childhood. A grandfather painter, an uncle sculptor, a father writer, the path to an artistic career seems to be all mapped out.

At the age of 18, she began a long and successful career in porcelain restoration (Paris, New York, London), "but restoration, which is fascinating, is only the extension of the object in history, I was not free to express myself, and the desire to sculpt was always on my mind".

Expressing the purity of line, the grace of a suspended moment and the fluidity of movement.
Fifteen years ago, inspired by masters such as Marino Marini, Henry Moore and Rembrandt Bugatti, she amazed her surroundings with her first bronze sculptures by the elegance of the lines, the beautiful balance and the vital energy that define her work.
At her first exhibition in London, she sold 35 pieces in three days!

Animals, nudes and Maasai.
Animals are a favourite theme, powerful boars, graceful deer, leaping hares, her works reflect her unconditional love of nature.

Caroline also likes compositions and nudes. Omar, a Brazilian model with an admirable body, inspired her series of Maasai hunters. "My characters are in movement, in balance of an instance, more and more aerial".

Her bronzes come from renowned foundries such as Fiorini in London (Henry Moore's foundry), Pangolin in London, HVH in the Czech Republic and Strassacker in Mulhouse (Rembrandt Bugatti, Bartholdi and Dali's foundry).

"I like golden, reddish-brown and black patinas, the noble colours of bronze, classic and elegant tones. Since I started working with Strassacker, my patina has changed, I use the Bugatti technique, the green of grey as a base, which gives a particular depth and makes the bronze almost alive".

Caroline holds several events a year and collects… collectors.
From intimate pieces to monumental works built with power and majesty, Caroline refuses to accept limits. One of her commissions of 2m50 high, adorns a property in Austria. There are no borders for this cosmopolitan and freedom-loving artist.

Today, galleries represent her in Great Britain, Belgium, Switzerland and the United States. She also won the Gold medal at Animal Art Paris in 2018, the Gold medal Grand Prize for Sculpture at Animal Art Brussels in 2019 and the Prix des Amis de Rosa Bonheur in Paris in 2022.